Teacher, the Greatest Preacher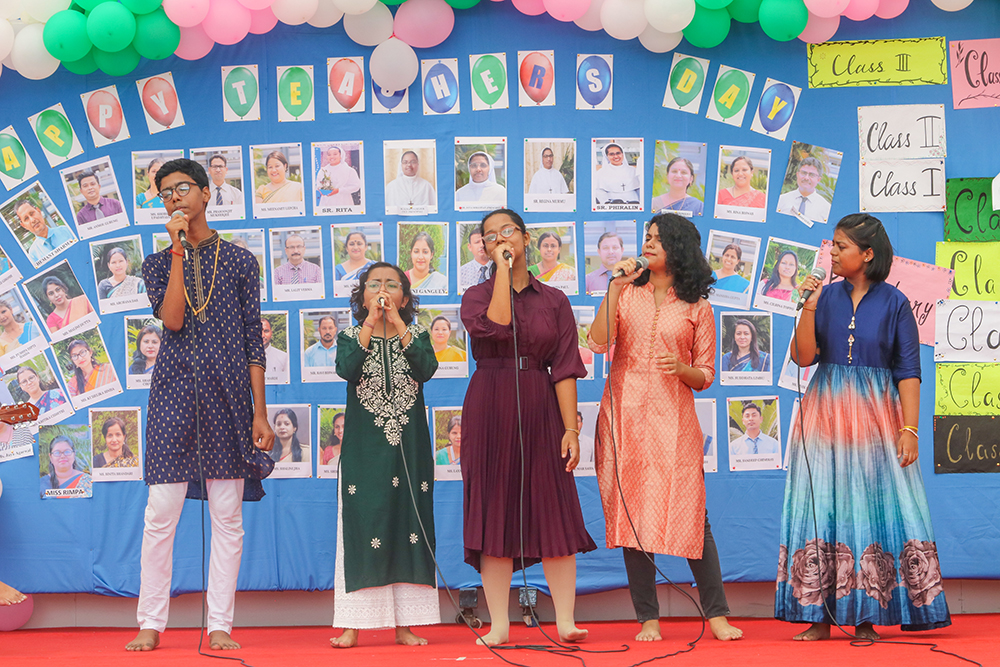 "Love blooms in the heart of a child when a teacher holds the umbrella of care and walks alongside him or her. Love paints colours of emotions when a child sees a shadow of his or her own parents in the teacher and smiles back. Love wins hearts when a child still wants to stay back with his or her favourite teacher after the school gets over. And love is infinite when a child thanks his or her teacher for all the stories of success to shape the future."
The everlasting charm in celebrating the Teachers Day occasion shall remain forever as long as there will be love and gratitude for teachers in the life of the students. On this sweet note, students in Auxilium celebrated this special day on September 5th, 2023 by offering immense respect and gratitude to all the respected Sisters and dear teachers.
Despite overhead anxieties of half-yearly examination, students of Auxilium presented a colourful programme in the honour of their adorable Sisters and teachers which included prayer, group song, speech, solo song and dance, etc.
During the ceremony, students created loud cheers of appreciation for their teachers' unforgettable contributions and commitments at the time of gift presentation.
The Principal of the school, on this occasion, thanked all the members in the teaching fraternity for their hard-work, dedication and commitment to train the students so that they can reach the zenith of their potential. She also acknowledged the fact that teachers are the backbone of any educational setup and play a vital role to shape the future of the students through their painstaking service & determination.
Every year, a deep satisfaction touches the mind of every teacher on this special day because sometimes in long journeys it is good to stop at beautiful junctions, realise the distance covered, breathe fresh air and restart the next phase of journey with plans of planting new dreams in young hearts. The joy of Teachers Day shall never fade away with time.
Tuesday, 12th September 2023