See You Soon (Farewell to Sr. Janees)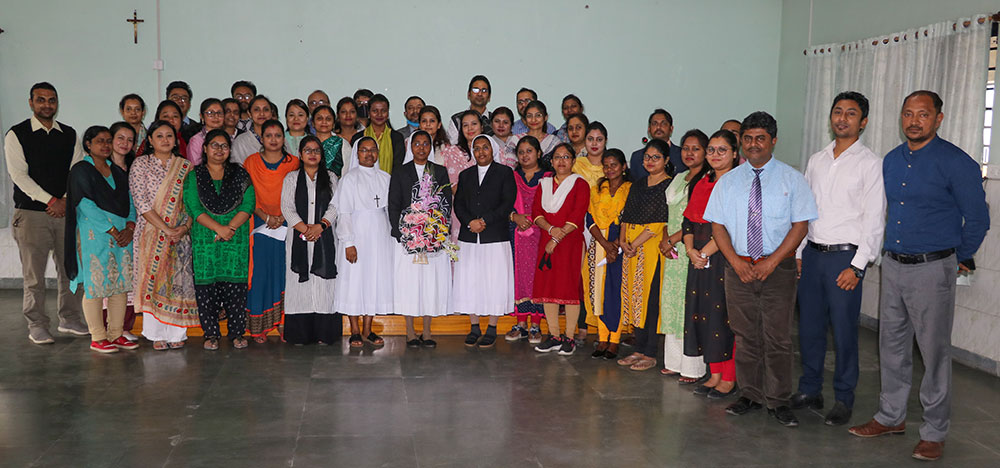 Auxilium family bid adieu to Sr. Janees Varghese through a heart-wrenching ceremony on 9th March, 2021. She had been working as the administrator at Auxilium Convent School since Feb. 2016.
At Auxilium, she will be remembered as a motivating individual with lots of cheerfulness and conviction. The past five years of her tenure at Auxilium helped the school to progress in many fields .
As a person, Sr. Janess has been very adorable among the teachers and children especially because of her inspiring moral stories that touched everyone's heart and encouraged to become a good human being with full faith in God.
The Auxilium management and staff members gathered together to express their warm regards and gratitude to Sr. Janees through a short ceremony that was marked by singing, farewell speech, refreshment etc.
In her goodbye speech, Sr. Janees thanked the Auxilium management and all the staff members for their extended support and co-operation through the years. She assured her continued prayers for everyone and lit the candle of hope in everyone's heart for a better tomorrow.
Her absence in the school shall be felt in the days to come. Her trademark cheerful smile wrapped in loving politeness will be missed altogether. the voice of her warm and tender greetings shall fade away with time but she will always be remembered in everyone's prayers with loads of good wishes and blessings for her new set of duties and responsibilies entrusted to her in her Godly mission.
Tuesday, 9th March 2021