Mother Elizabeth Packumala Memorial Football Tournament (3rd edition)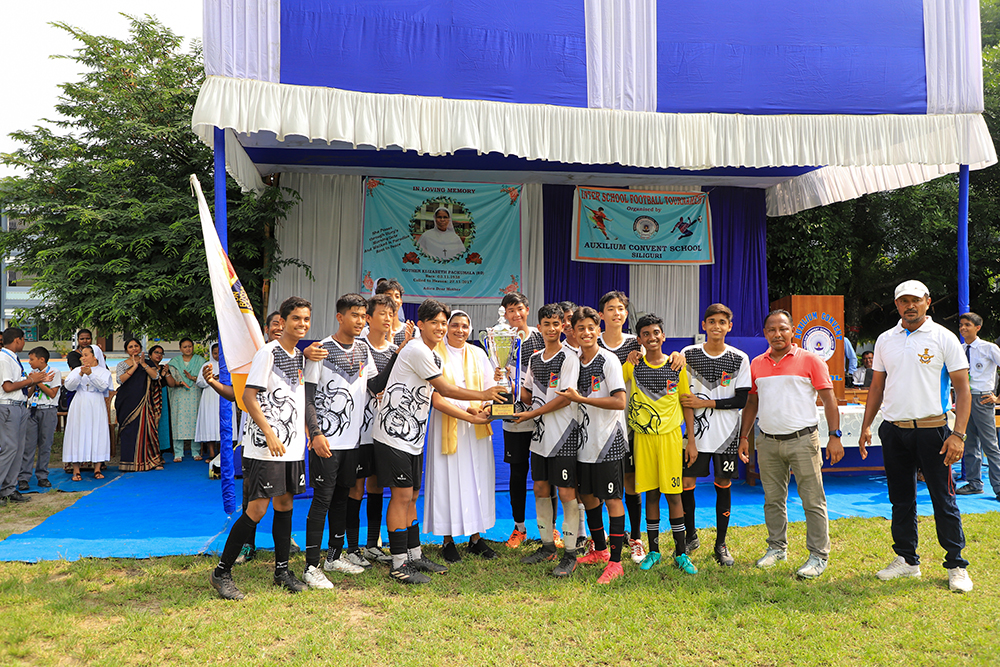 The colorful closing ceremony of Mother Elizabeth Packumala Memorial Football Tournament took place on 10th July '23 during which a graceful programme was presented by the students of Auxilium. The ceremony included welcoming of the Chief Guest, Provincial Superior of the Kolkata province, Sr. Sini Mathew followed by prayer song and dance.
The final match began after the Chief Guest personally got introduced with each player and blessed each one of them abundantly.
Everyone was holding back his/her excitement in the final of the third edition of Mother Elizabeth Packumala Memorial Football Tournament 2023 until the moment Don Bosco, Siliguri scored their decisive goal in the penalty shootout and sealed the fate of the match in their favor.
In the final, Don Bosco School, Siliguri exhibited outstanding soccer skills and defeated Sacred Heart School by a margin of 2 goals to 0 in the penalty shootout.
Atul Raj (GK) of Don Bosco was adjudged the man of the match whereas Tenjing Rabgyel Lama of the same institution became the highest scorer of the tournament with four goals to his name. The fair play award went to Alphonsa School. Kshitij Rai of the same school was awarded the player of the tournament.
The tournament spanned from 28th July to 10th Aug '23 in which the organizers and school management took care of every need of the visiting players. Some of the other participating teams in this tournament apart from Auxilium Convent School were Don Bosco School, St. Joseph's Bhaktinagar, St. Joseph's Ghoshpukur, Hebron School, Birla Divya Jyoti, St. Michael's School, St. Xavier's School, North Point School, West Point, Jermals Academy etc.. All the matches, in the tournament, were officiated by professional and neutral referees from the Referees and Judges Association.
The blessings of Late Mother Elizabeth Packumala, thus, left an everlasting smile to the happy conclusion of the tournament and everyone returned with new hopes and dreams for the fourth edition, coming year.
Thursday, 17th August 2023